Fall Special
Get enrolled today before the tuition change.
Expires 12/17/17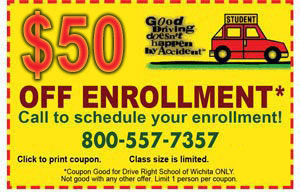 Lowest in Wichita! $360.00
(2 payments of $180 each - with coupon)
Includes fuel surcharge
Accept Visa, Mastercard, Discover. Check or Cash. (exact amount only)
No need to clip the coupon, just call to enroll and tell us you saw it on our website.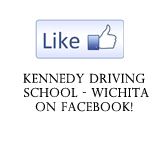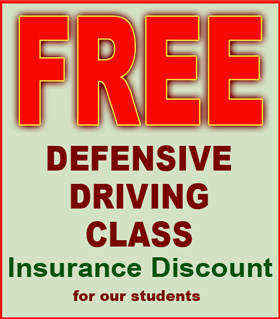 Kennedy Drive-Right School

» Classroom Schedule
(Class size is limited)
---
Wichita's MOST preferred Driving School

Training over 10,000 Teens and adults since 1996

Patient, caring instructors with small classes

Our number 1 focus is:
DEFENSIVE DRIVING and TEENAGE DRIVING DISTRACTIONS (cell phone use, texting, peer pressure)

Payment plans available and credit cards accepted (Visa, Mastercard, Discover)

The only school in Kansas offering a FREE Defensive Driving, Accident Prevention Course for all our driver ed students.
---
KENNEDY DRIVE-RIGHT SCHOOL - THE PROFESSIONAL SCHOOL IN WICHITA
Maintaining a standard of excellence
since 1996 - teens and adults.
PROFESSIONAL LOCATION
ONLY open during class hours
Northrock Business Park
(across from Sam's)
CLASSROOM ONLY:3450 N Rock Road Bldg 600, Conference Center
(east end of building)
Easy access from anywhere in the city.
Get Directions
---
PROFESSIONAL APPROACH
Our only objectives are teaching driver education and defensive driving.

By passing this Driver Education Course, you can receive a Kansas Driver's License from the motor vehicle department, based on GDL law. Graduate Drivers License Law as of January 1, 2010
---
PROFESSIONAL SERVICES
Kennedy Driving School Provides:
Individual one-on-one driving instruction with convenient door-to-door service in the Wichita area

Flexible driving schedule

22 hours of Professional Training
• 14 hours of classroom/driving instruction
• 8 hours Advanced Defensive Driving course FREE
• For safety reasons, each student must demonstrate proficiency in understanding and speaking English before any class room or behind-the-wheel instruction can be provided. If English proficiency is a concern, please call our office to discuss the situation before submitting a registration or any payment.


Insurance discount available with the "AAA" Driver Improvement Program class - check with your insurance agent.

Licensed by the State of Kansas

Authorized by the Kansas Department of Insurance

Payment plans available

We accept: VISA, Mastercard, Discover
---
PROFESSIONAL INSTRUCTORS
A combined total of over 100 years teaching experience
---
PROFESSIONAL OWNERSHIP - Bill Kennedy
Master's Degree in Education

30 years teaching experience

Teaching certification issued by the State of Kansas
Give your beginning driver the professional instruction they deserve with a new and innovative approach for training novice drivers.
---
"THE 4 LEVELS OF LEARNING"
22 HOURS OF PROFESSIONAL INSTRUCTION
14 hours - basic instruction for obtaining a driver's license. Required - Some medical questions related to driving.

8 hours - "Advanced Accident Prevention" course is FREE - GUARANTEES INSURANCE DISCOUNT.

ALSO satisfies "Driver Awareness Program" for offenders - Costs $100, NO REFUNDS.
---
LOWEST TUITION COST
22 HOURS OF PROFESSIONAL INSTRUCTION
Includes FREE Defensive Driving Course

We accept VISA, Mastercard, Discover

FUEL SURCHARGE: Due to rising gas prices, a fuel surcharge may be added.
---
OPTIONAL TRAINING AVAILABLE TO INCREASE SUCCESS
A home study guide to aid parents and a one hour driving proficiency evaluation are available.
Course Eligibility
"Minimum requirements, KS. M.V.D. age to drive." Any person 14 years or older.
LEVEL I - BASIC DRIVER EDUCATION
14 hours required instruction for obtaining a driver's license.

Includes: 8 hours of classroom instruction and 6 hours of 1-on-1 driving instruction; with flexible scheduling and door-to-door service in the Wichita area.
Academic Classroom Curriculum
Written Pretest

Defensive Driving Philosophies

City and Residential Driving

Kansas Handbook Study Guide

Night Driving

Adverse Driving Conditions

Highway and Freeway Driving

Special Driving Situations

Alcohol and Driving

Written Post Test; a score of 90% or above is required to pass
Behind-the-Wheel Curriculum
Residential Driving; turns, speed control, centering, steering, etc.

City Traffic; turns, following distances, lane changes, one-way streets

Parking Lot; parking, backing

Highway Driving; on, off, speed control, centering, passing procedures
LEVEL II - THE PRACTICE
This phase should be an ongoing process throughout the entire "4 Levels of Learning" program. It is designed to help the beginning driver practice with an adult the safe driving skills and procedures that they were taught in basic driver education and the Accident Prevention Defensive Driving course. The minimum number of hours of practice should be 50-100 with a qualified adult. Click here to learn more about the home study guide that's available to help parents organize and complete this important aspect of the training program.
LEVEL III - ADVANCED DEFENSIVE DRIVING COURSE
Eight (8) hours of a nationally recognized course for a guaranteed auto insurance discount good for two years for qualified drivers.* This comprehensive program is recognized by the State of Kansas as one of the few courses certified for a guaranteed insurance discount.* (40-1112A) Qualified Drivers:
Principal operator of covered vehicle

Only one moving violation
Also accepted for court ordered "Driver Awareness Program" - Costs $100, NO REFUNDS.
Accident Prevention Curriculum
Hazard Detection

Risk Perception

Visual Search

Speed Control

Space Management, margin of safety

Communication

Driving Emergencies
This course is designed to provide the knowledge that each student needs in order to develop into a safe and successful defensive driver. The recommendations for attending this class are as follows:
Wait 3-6 months after completing basic driver's education (Level I)

Complete 50 plus hours of driving practice with an adult (Level II)

By waiting, this will enable the beginning driver a better understanding of the many advanced defensive driving philosophies and skills prescribed in this course.
LEVEL IV - DRIVING PROFICIENCY EVALUATION (additional charge)
This level is a one hour driving proficiency evaluation for the beginning driver. It is designed to be the final phase in the "4 Levels of Learning" program. The evaluation should be conducted any time after the completion of all three levels and the driver has obtained their restricted or unrestricted driver's license. This phase will help determine the driver's basic driving proficiency, in addition to their defensive driving skills.
Refund Policy
If partial payment or payment in full is made for a student, the refund is as follows:
If a student is not able to attend any portion of the eight hours of academic classroom instruction, and/or any portion of the six hours of in car, behind-the-wheel instruction, per the contract agreement the "non-refundable deposit" will be kept by the school. If all tuition fees have been paid in full, the "class fee" will be refunded.

If the student attends any portion of the eight hours of academic classroom instruction and cannot continue the course, both the "non-refundable deposit" and the "class fee" will be kept and not refunded.

Rescheduling to use nonrefundable fees may be considered up to one year from the date on the student contract.